| | |
| --- | --- |
| | The Region |
| | |
| --- | --- |
| | Activities |
Bergerac region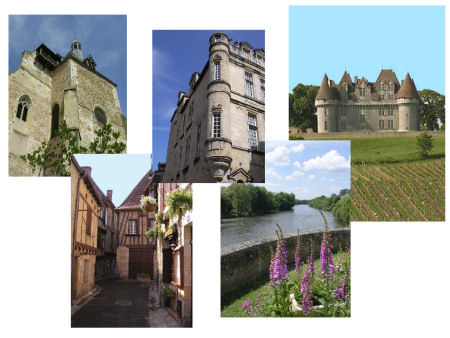 Looking out over the Dordogne valley, is the deligntful, fairytale, Chateau de Monbazillac. Here the tourist can enjoy both : the well preserved example of Renaissance architecture which has all the medieval military characteristics nevertheless (cannon-ports, machicolations, moat, etc;) which are from now on simply aesthetic and symbolic; as well as the food and fine sweet wines of the Monbazillac appellation. The Chateau de Lanquais is also fascinating. The original fortress was built during the Hundred Years War to which was added a fine Renaissance palace. The authenticity of the building and its furnishings plunge the visitors back into history and the daily lives of past unhabitants.
A little way away, on a bend of the river Couze, is the superb Chateau de Bannes. standing on a rocky outcrop it provides a beautiful setting for summer theatre productions.
Many of the traditional craft industries are still practised in the region. One example can be found at the Moulin de la Rouzique at Couze where paper is still made from cotton and linen waste.
The south-west corner of the Perigord is also famous for its bastides, a string of "news" towns created in the 13th century, by both the English and the French, essentialy to promote commerce. Later,fortified, they became very important in the Hundred Years War and changed hands many times. Monpazier is the finest local example but the bastides of Eymet, Lalinde, Beaumont, Molières, Villeréal and Castillonnès each have a singular charm. The medieval village of Issigeac offers yet another example of a bygone age and subtly brings the visitor back to Bergerac and its history.
The area sandwiched between the rivers Dordogne and Gironde is known as "le Pays de Montaigne" and offers a variety of scenery and tourist attractions. Good examples are the Tour de Montaigne, the Jardins de sardy and the Gallo-roman villa at Montcaret.
| | |
| --- | --- |
| | Tariffs |
| | |
| --- | --- |
| | Reservation |
| | |
| --- | --- |
| | Language |

.