| | |
| --- | --- |
| | The Region |
| | |
| --- | --- |
| | Activities |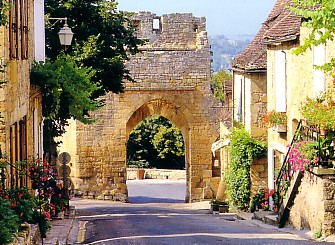 Altitude 250 m. - 987 inhabitants - Paris 550 km. - Sarlat 12 km -
To visit Domme, it is to plunge in the history of a medieval city which had to be defended against many invaders. It is also, once the crossed doors, of which most famous is the door of the Turns, with its graffiti templiers, to succumb to the charm of the royal Country houses of the 13e century and to smell themselves a little at home.
Domme, exceptional and splendid, has the most famous panorama of Périgord, plunging on the Dordogne. Under the fairness of its masonries of the 14e and 18th centuries, lives a fantastic world of natural caves with its colonnades the stalactiques ones and mirrors of water, emphasized by sets of lights.
The important collection of the popular objects of the last centuries sheltered in the museum testifies to the everyday life to the peasants and regional craftsmen.
Périgord with its tasty products of the soil, another facet of its inheritance, is always a host country which privileges the art of good food!.

| | |
| --- | --- |
| | Tariffs |
| | |
| --- | --- |
| | Reservation |
| | |
| --- | --- |
| | Language |

.